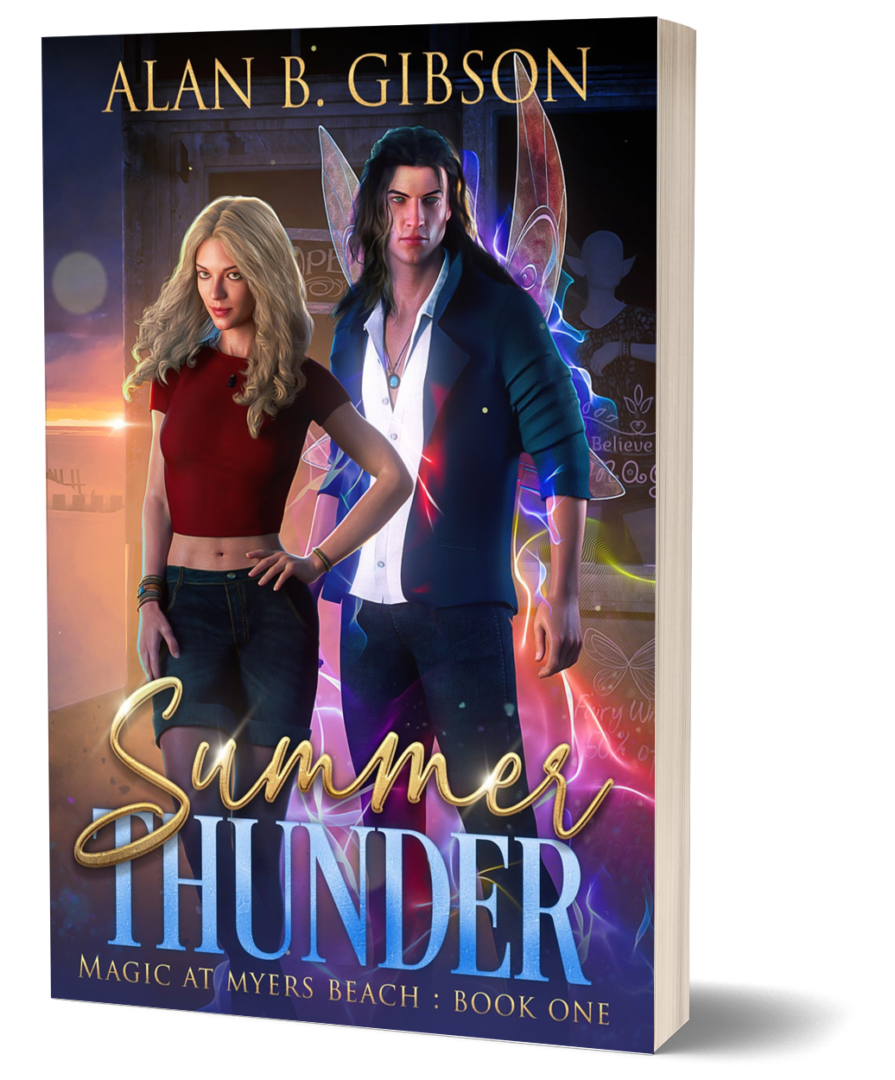 AUTHORS NOTES
I confess. I wrote Summer Thunder on a bet, and the stakes were high. My reputation was on the line.
It was cold and damp that March evening in Scotland when I joined a group of colleagues around the fireplace. We'd wrapped up a full day of workshops and classes at the Scottish Association of Writers conference, and we were doing what authors do best–sitting around talking about writing.
The conversation wandered to poking fun at genres other than our own. Most of us wrote crime or thrillers, and apparently, I made a disparaging comment about how much easier it would be to write a romance or a fantasy.
"You wouldn't know where to start," said someone.
Encouraged by three fingers of whiskey I took it as a dare and suggested I not only was capable of writing a romance, I could write a romance fantasy.
"Pfft!" I said. "I've even got the plot."
I didn't know the first thing about writing romance novels, and to the best of my recollection, I'd never read one. Stunned that after all those years of teaching and practicing yoga I could still let my ego get the best of me, I shut up and blamed my impulsiveness on the whiskey.
"So, tell us!" The woman who goaded me was my good friend, or so I thought, and I made a mental note to get back at her one day.
I had just fallen into a gigantic hole that I'd dug myself. With only seconds to climb out, I reached not very far back in my brain to an area of expertise that hadn't failed me––a lifetime career in advertising pitching to clients.
I stood up. "Okay. A beautiful woman with lots of personal baggage sells fairy figurines in her shop at a Renaissance Festival. A mysterious, hot surfer guy walks in looking to buy fairy dust. Turns out he is an actual fairy prince, and his kingdom recently ran out. Naturally, the encounter changes both of their lives."
"That could work," said a publisher friend with the credentials to know. "But set it in on a beach in California instead. You've always got to think about the movie."
On the spot I created a fictional beach boardwalk. I kept the fairy prince, but now in this revised version he also happens to be a champion kite surfer. The story was writing itself, and on the plane home the following day I scribbled plot and character notes. For the next few months, I was obsessed with writing the story I entitled Summer Thunder.
Nobody was as surprised as I that putting that first book together got me hooked. I had so much fun, I couldn't stop, and I wrote three more.
If you enjoyed reading about Lily and Theos's magical romance in Summer Thunder, I believe you'll want to find out what happens to her best friend Greta the Witch and her run-in with a rival witch, Zsa Zsa Hadju in Summer Storm. Summer Lightning, and Summer Cyclone complete the four-book Romance/Fantasy series, Magic at Myers Beach.
Summer Thunder will always have a special place in my heart, too, because the day before my life partner of 31 years unexpectedly died, he read the manuscript and told me how much he loved the story and how proud he was that I'd written it.
I appreciate feedback, so please visit me with your comments. I'm easy to find because I'm all over the place.