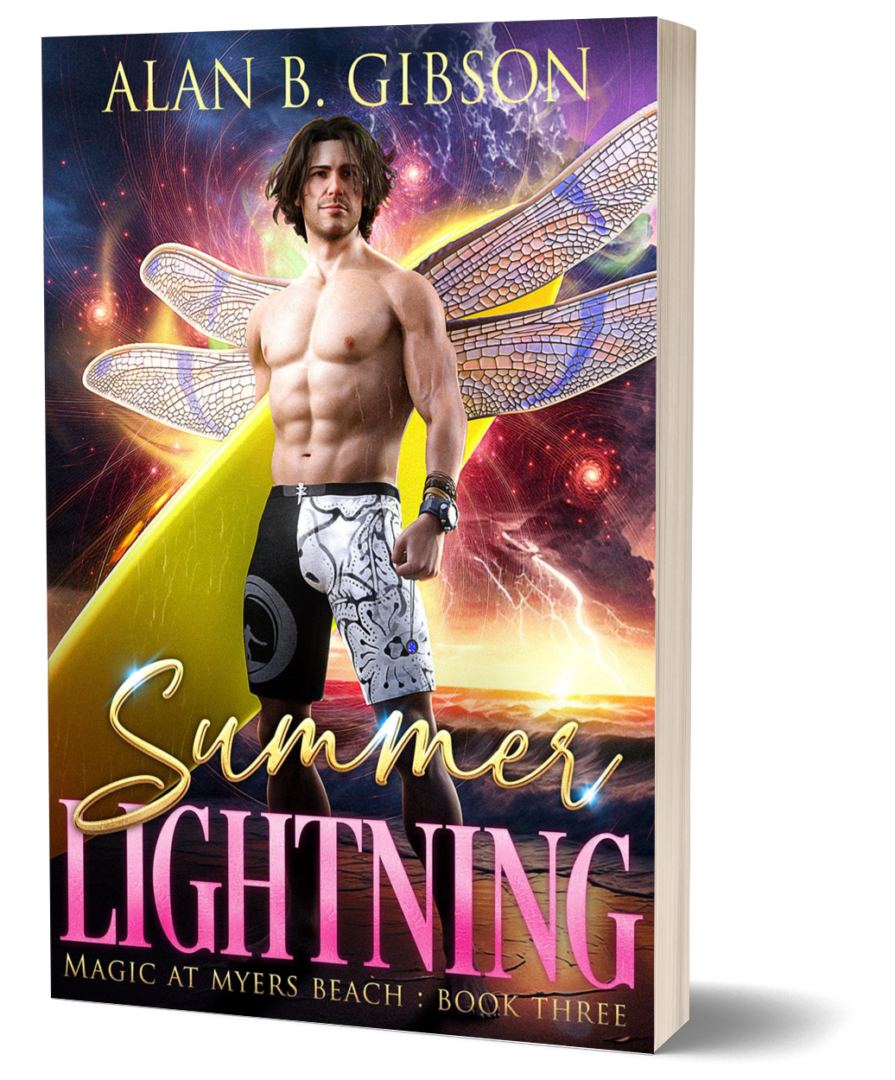 AUTHORS NOTES
From characters, to locations, to plot points, and playing footsie much of what I've written in Summer Lightning is very personal, beginning with the main character, Alias.
A few friends suggested that his personality and decades long struggle with sexual identity and its adjacent insecurities sound a tad autobiographical, and to that I plead guilty.
I did have good hair once, but as to his buffness and athletic prowess, I'm afraid that falls under the category of aspiration. Still, Alias the beautiful will probably always be my alter-ego.
If you are an author of fiction, somewhere along the line someone will give you a mug or a t-shirt inscribed with a warning that goes something like this: If you're not careful, you'll end up in my novel. Call them gag gifts if you like, but I'm here to say that my books are filled with characters from my past who weren't careful.
One of them was my high school chemistry teacher. If you sat through his class with me in the sixties, you couldn't ignore the resemblance between our teacher and this book's villain, Mr. Györfi. Both were smart and terrifying and egomaniacs, but they forced us to think. And, like the young boys' tutor, our chemistry teacher often flailed his arms to make his points more memorable, which is why that after all these years, I'm confident that I could pass his final exam.
One day he departed from speaking about valences and carbon chains and gave us a lecture on the subject of Louis Pasteur's famous quote, "Chance favors the prepared mind." We'd never seen him so animated, as he danced around the room promising that we would never hear a more valuable lecture from anyone in our lifetimes. The young royals react the same way when Györfi presents that same lecture to the boys and makes that same guarantee.
And my teacher and Györfi were both right. Despite rolling my eyes from the back row at his nutty behavior, my teacher's over-the-top presentation had secretly been searing Pasteur's words into my hippocampus. In fact, I drew on that nugget of wisdom throughout my life and found that adhering to the aphorism was responsible for many of my successes.
Giving credit where it's due, I honor my teacher by making his lecture a recurring theme in Summer Lightning.
So then why did I cast such a memorable teacher to whom I owe so much as the villain?
Easy. Revenge. He gave me the one and only detention I received in high school – for the egregious crime of leaving my chemistry lab drawer unlocked on afternoon, and I never forgave him.
Incidentally, the name Györfi served as payback to another person from my past, and Christophe was the name of a French photographer's assistant on a fashion shoot I led in Haiti. Feel free to speculate all you want about those relationships.
While many people consider obsessions to be negative attributes to one's personality, I consider all of mine a blessing, and this book is jammed with examples. Among them, secret stairways and hidden passages.
I encountered my first in a Hardy Boys Mystery, perhaps my earliest obsession. It was fictional of course, but as my literary tastes evolved and I learned that the secret stairway behind the fireplace in The House of the Seven Gables was real and open to the public, I was ecstatic enough to talk my parents into taking a family trip to Salem, Massachusetts, just so I could see and touch it firsthand.
Given that Mr. Györfi was the boys' tutor, entering his through a secret door in the palace library bookcase seemed appropriate.
Fun fact: My university German professor also had a secret door in his home library's bookcase.
Locked and unmarked doors that one passes by while touring monuments and castles have fascinated me every bit as much. You may recall in the previous book, Summer Storm, that Greta was equally curious about what went behind some of those unmarked doors she passed on her way down the winding stairways below Alias' mansion at the top of the cliff.
Spoiler alert: I'm not done with them. You'll see a different take on secret entrances in Summer Cyclone, the fourth and final book in the Magic at Myers Beach series, as well as in nearly all my upcoming thrillers.
The Sargassum algae situation in the world's oceans is very real. As a lifetime beach nut and a former boater, I'd first encountered the prolific algae years ago in the Yucatan Peninsula. It was only on my recent trip to St. Martin in the French West Indies that I witnessed the extent to which the growth has gotten out of hand.
Unlike seaweed, which finds its way into food and cosmetics, scientists have yet been unable to find a use for Sargassum. So, by turning it into a key element of fairy dust, I feel I am doing my part in saving the planet. Click on this link. You'll be amazed, and possibly sickened by the economic and environmental consequences.
A few days after researching my books in St. Martin's Orient Bay, I travelled to Paris, where I found the perfect spot near a skatepark on the edge of the Bois de Bologne for the Third King to materialize after being banished by his evil aunt. Location, location, location.
You may have guessed that I'm also obsessed with nobility. That began by reading wondrous tales about kings and queens in fairy tales and mythology, well before I was exposed to the Hardy Boys. It later came in handy in college, where peeking through the lenses of kings and queens was my secret weapon for nailing world history.
Oddly enough, instead of tiring from those fantasies, my fascination has grown, because as I write this, I'm experiencing royalty every day, firsthand.
A few more fun facts:
Despite everyone else drinking martinis in the book, I don't. Not an obsession of mine.
I've never been on a skateboard.
If you try hard enough, you'll find the solution to the fairy dust formula everyone missed in the book.
I named Hersey Lighthouse and the fierce pirate Captain Gabrielle Hersey for my talented assistant by the same name.
I listened to 20's crooner Vaughn De Leath's recording of "Are You Lonesome Tonight" nearly every day while I was writing Summer Lightning.
Elizabeth Taylor and I dined together at Dominique's in Washington, DC in the 90s. Her White Diamonds perfume ad has kept me in stitches for years.
I've been a fan of the Gabor sisters since I was a child, and I was lucky enough to have dinner with Zsa Zsa and her mother Jolie in Washington, DC.
The saga continues with Summer Cyclone, the fourth book in the Magic at Myers Beach series, with a new and unlikely romance, the return of a favorite villain or two, and plenty of fairy dust. To learn more about what goes into writing my novels, subscribe to my blog.