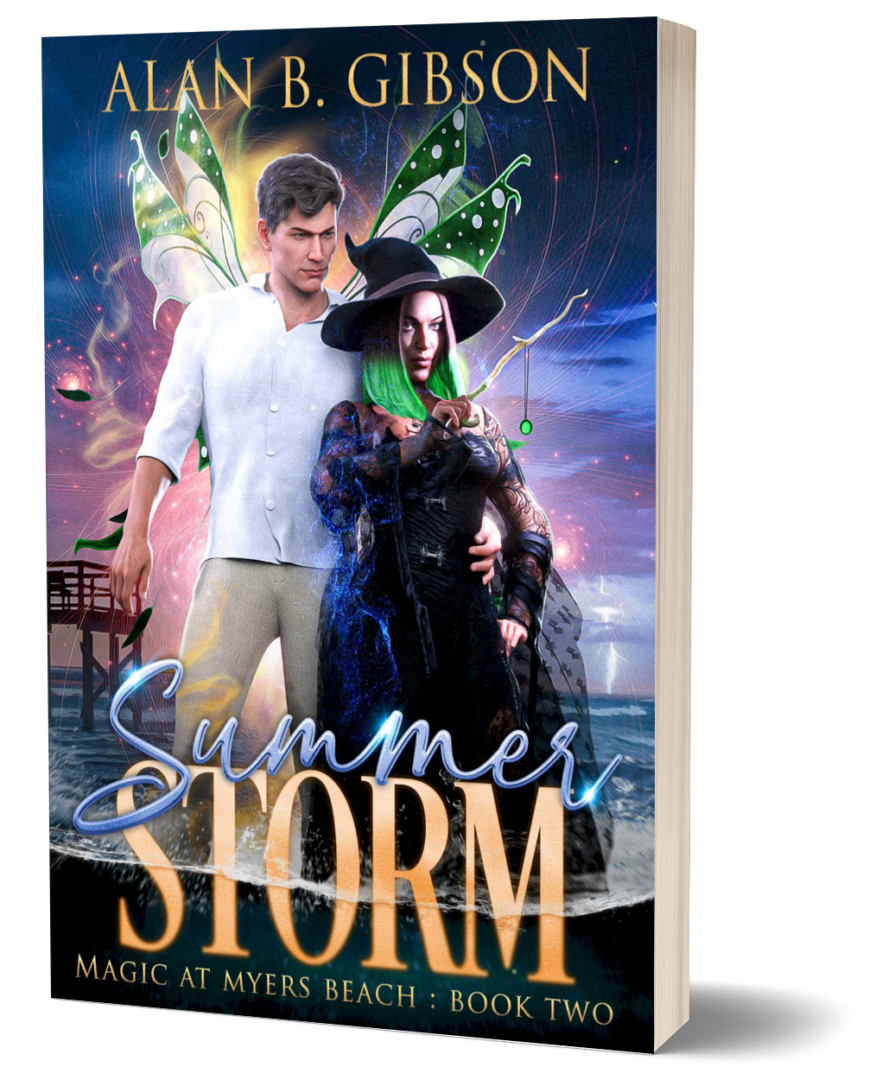 AUTHORS NOTES
I frequently get asked where I come up with the characters and plots in my books. The answer depends on whether I believe they want a quick answer or a deeper dive, so, to find out their level of interest, I lob the ball back to their court. "From all around me," I say.
As a reader of Book Two of the Magic at Myers Beach series, I will assume you'd prefer a more satisfying response, so here goes.
Red carpet events, celebrities, galas, social media influencers, fashion and fashion photography, the annual Halloween trade show, reality shows, beaches and boardwalks, Hollywood producers–these all play prominent and often recurring roles in the Magic at Myers Beach series.
And I weave aspects of them into my plots because I've either been them, known them, or done them.
You might consider me lucky to rub up against such glamour, and I'd agree. My familiarity with luck is also why passing on luck is another ongoing theme in the series.
Let's talk about names.
I spent much of my advertising career in fashion, where I directed photo shoots and worked closely with models and agents. One of my closest friends was one of those hot shot fashion photographers whose photos were always in magazine spreads and in the New York Times. While the character in Summer Storm is not based on my friend, as an homage to our friendship, I did cannibalize his real name and rearrange them to give to the character.
During my years with another client, The John F. Kennedy Center for the Performing Arts, I filmed commercials and promotions for shows dozens of actors, who in many cases became lifelong friends. With them I've experienced the many sides of stardom and gave me the insight to write Greta's plot line in Summer Storm.
I love creating my characters' names. I pull them from everywhere, and one of my favorite sources is Paris Metro stops. Though it wasn't intentional when I started the series, I give them only first names. I take that back. All but two. Greta admits that in the fine print on her website, she lists her last name for legal purposes. But she asserts that she never uses it, because she rightly claims that "Johnson" wasn't a convincing name for a witch.
Alias, who becomes the protagonist in Book Three, Summer Lightning, is an amalgamation of physical and personality traits of a couple social media influencers who are actual friends of mine. With Alias' Hollywood leading man looks, great hair, (In all fairness, I used to have that, too!), flashing white teeth, and a drool-worthy body, I confess that he quickly became my alter ego.
For a while I wanted to be him so badly that when they'd ask for a name at a coffee bar, I'd tell them it was Alias. I loved the questioning looks. (Okay, I still do use his name.)
The evil Zsa Zsa Hajdu is the other character with a last name, but as 'Fortune Teller to the Crowned Heads," she needed one. And speaking of Zsa Zsa. I've always loved names that begin with the letters 'Zs,' so much so that in addition to her, I named Greta's love interest Zsombor. His first name came from an online influencer friend, who is a photographer and model, but I'm so enamored with his entire name, that Zsa Zsa got his surname. He and I share a love (and an addiction) to coffee, too, which is another theme running throughout the series.
I'll round of the naming discussion with a fun fact, and a bit of a name drop. I once sat next to the glamorous and legendary Zsa Zsa Gabor at a dinner party in Washington, DC, and for years afterward, our photo together was framed on the wall of the restaurant. Incidentally, in Book Three, Summer Lightning, I gave a colorful actress character the name Gabor. To glam her up a bit, I gifted her the title, "Dame."
If you enjoyed reading about the magical romance between Lily and Theos in Summer Thunder and Greta and Zsombor in Summer Storm, I believe you'll find the twist in handsome Alias' passionate love story both compelling and unexpected.
I appreciate feedback, so please visit me with your comments. I'm easy to find because I'm all over the place.